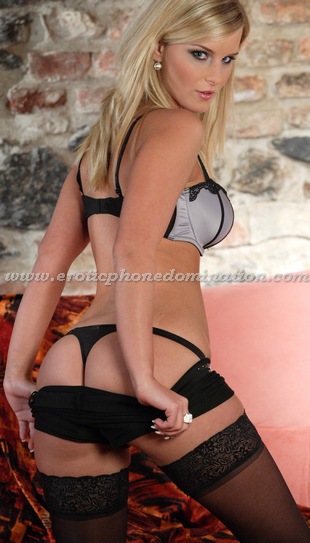 Are you an ass slut?  Does the sight of woman's curvy cheeks inches from your face make you feel weak? A lot of my phone domination callers love ass worship.  But what submissive male wouldn't be brought to his knees at the thought of being allowed to worship my gorgeous sexy ass?
And that's a good thing because I happen to love ass worship too.  What's not to love about having you worship my body in the most intimate way possible?  Just imagine —- you lying naked on your back, your hands tied out of the way, panting with impatient  lust as you look up at me crouched above you with my perfect round ass resting over your face, just out of your reach.
I'd start by teasing you, rubbing my cheeks against your face.  I'd make you beg to kiss every inch of my ass before finally lowering it down to rest against your face.  You would kiss every inch of it too and I'd make sure you didn't leave a single spot unkissed.  Then I'd press down a little more and push your nose between my cheeks.  Now open your mouth, my boy, and slide your tongue between my cheeks and worship my ass the way a good submissive ass slut should.
I love the feel of an eager, wet tongue licking and stroking me in that very sensitive spot and I've been known to keep a slave at it for quite a while.  Do it just right and you'll have the reward of bringing your Mistress to orgasm.  Maybe more than once.  And if you work hard and please me very well, you might even be rewarded in other ways too.  🙂
Ass worship, cock teasing, guided masturbation, bondage, and every other kinky taboo submissive desire  — we'll explore all your erotic phone domination fantasies and make them real.