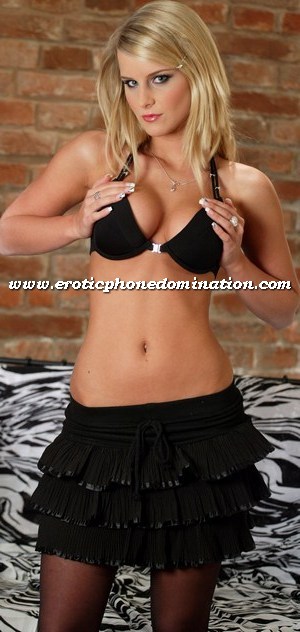 One of my favorite kinds of phone domination calls is fetish fantasy role plays.  A lot of callers want their phone Mistress to exercise real life control over them, during the call and sometimes even outside the call's duration.  Maybe they want her to allow them to touch their cock. Or forbid them from touching their cock.  To make them perform in various ways for her.  To punish them if they fail to please.  And I do love to do that.  I love making making my boys into obedient submissive sluts for me.
But some phone domination callers have some type of femdom fetish fantasy that they want to explore. Doing fantasy role plays can be very hot.  I have a great imagination and I enjoy the challenge of this kind of improvisational acting.
I've done fantasies where I'm a giantess, toying with a tiny male who fits in the palm of my hand.  I've been a sadistic prison guard, cruelly tormenting a prisoner in my charge. I've been a sexy super heroine. a slave owner in ancient Rome, a witch with magic powers, even a succubus.  I've role played characters from movies, television shows and books.
The best part of a fetish fantasy role play for me is the chance to exercise my dominance over you outside the constraints of the real world.   To use my imagination and verbal abilities to push your submissive feelings to their limits.  When we do a call like this, I like you to lie back and close your eyes to shut out any distractions.  I want you to immerse yourself as deeply as possible into our erotic fantasy scenario.
Do you have a fetish fantasy you'd like to explore?  Bring it to me and let me bring it to life for you!