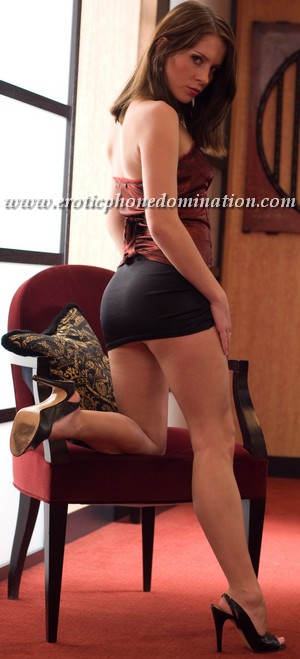 Lately, a lot of my phone domination calls have been requests for humiliation sessions. Femdom humiliation is a fine art to me. When you call to speak with me, we'll definitely explore every aspect of your humiliation fantasy.
Are you a boy who can't keep his hands off his cock? Maybe you're one who can't stop having nasty thoughts about what you want a Mistress to do to you, even though you're embarrassed by those desires. Could it be that you like to wear women's panties—or more? Perhaps you want to be used and taken like the slut you are, or be made to watch as a well-hung bull pleases your Mistress in ways you never could.
No matter what your  fantasy contains, I will take you in hand and bring you there. A femdom humiliation session with me is so much more than just name-calling and shouting. First, you'll strip naked for me before we talk about your fantasy so that I can inspect you and size up that cock of yours and see just how aroused you get. Next, we'll talk in detail about the kind of humiliation you crave and just what a dirty boy you are. You know I expect you to tell me every naughty detail, so be prepared.
Then I'll take total control of you and your fantasy. Maybe I'll have to tie your hands behind your back so that you can't touch that cock while I'm teasing and torturing it. Maybe I'll make you do that thing that you're most embarrassed about—and tell you what a nasty little sex toy you are while you're doing it. Perhaps I'll make you slip on a pair of satin panties for me and tease you until you start to drip—then have you take them off and put them in your mouth as a gag.  If I'm very pleased with you, maybe I'll take mine off and put them in your mouth as a gag. Or maybe I'll just make you my total slut and make you lick me in all those delicious places I love to be licked, then bend you over and penetrate you while I remind you of just how slutty you are.
By the time our erotic phone domination session is over, your cheeks will be burning from embarrassment and you will be humiliated as you should be. Whether your fantasy is about denial, teasing, cuckolding, bondage, or something else, we'll take your erotic phone domination desires to the next level.