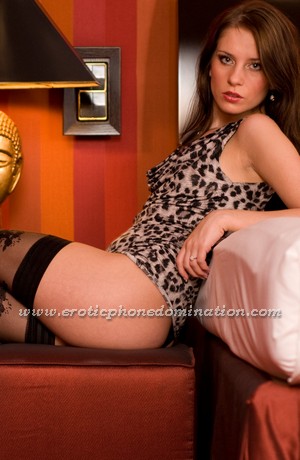 It's always a turn on for me when one of my phone domination calls includes a femdom spanking session. Sometimes femdom spanking isn't so different from traditional corporal punishment or domestic discipline spanking. If you misbehave or displease me, corporal punishment is exactly what you deserve and bending you over for a good, hard spanking with a hairbrush or a paddle is usually my punishment of choice. Or if you've been a very bad boy, you might get a long strapping and have my belt snapping across your bare ass and thighs a few dozen times.
But femdom spanking isn't necessarily about discipline or punishment. Erotic spanking is a tremendous turn on for me. Sometimes I want to put you over my lap and warm your ass for no other reason than the pleasure I get from the sound of my hand or hairbrush smacking against your backside and watching you flinch and kick as I make your ass red and hot.
Not to mention the pleasure I get when I run my hand over your red, stinging ass and make you shudder with excitement at the feel of my cool fingers caressing your cheeks. Maybe I'll threaten to spread those cheeks apart so I can slide a vibrating plug into your ass to torment you for the rest of your spanking. Or maybe I'll decide to put something larger than a butt plug into your ass. After all, an erotic spanking is the perfect foreplay for strap on sex, isn't it?
So you see, my style of femdom spanking phone domination works just as well for naughty boys who need a good spanking as it does for good boys who are craving a very naughty kind of spanking.